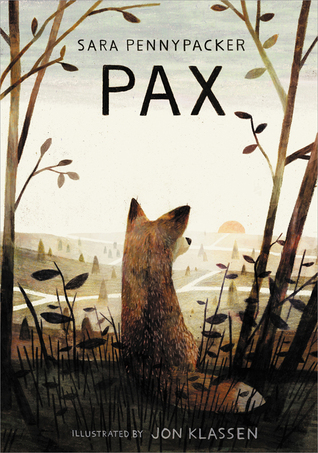 I'm pretty sure this book is going to become a classic. It's the story of a young boy, Peter, and Pax, his tame fox. When Peter's father leaves to go to war, the boy is forced to abandon the fox in a forest. He is with his grandfather less than twenty four hours when he realizes what a terrible mistake it was. He gathers what he thinks he will need and heads out, hoping to hike cross country 300 miles to where he last saw Pax.

The story is told alternately from both their perspectives. Pax struggles to survive on his own but manages to connect with other foxes. Peter breaks his leg and ends up convalescing with Vola, a woman damaged from an earlier war. Peter is afraid of his anger and worried that if he lets it loose he will end up like his abusive father. They end up helping each other begin to heal.

At least some of the power in this book comes from the anonymity of place. The characters represent all people and animals caught up in the atrocities of war. It is beautifully crafted and deeply philosophical. I stopped reading many times to make note of quotations from the book. There are many phrases and sentences that took my breath away.
Many of these emerge out of the conversations between Peter and Vola.
"I have peace here."
"Because it's so quiet?"
"No. Because I am exactly where I should be, doing exactly what I should be doing. That is peace."

"Now you're antiwar, right?
Vola steepled her fingers under her chin. "That's a complicated thing. What I am is for telling the truth about it. About what it costs. People should tell the truth about what war costs. That's taken me a long time to figure out."

"The plain truth can be the hardest thing to see when it's about yourself. If you don't want to know the truth you'll do anything to disguise it."

The water was what the war was all about. Peter remembered Vola asking him which side his father was fighting on. Peter had answered her, stunned that she would even have to ask. "The right side," he'd added indignantly.
"Boy," Vola had said, and then "Boy!" again to make sure she had his attention. "Do you think anyone in the history of this world ever set out to fight for the wrong side?"
Perhaps because I am here with my mother as she nears the end of her life, this sentence where Pax lays down with the old Gray fox resonated powerfully with me.

He could offer only withness, but nothing else was asked.